Main content starts here, tab to start navigating
Food Truck Menu
Sarge's BBQ menu items contain ingredients that may include tree nuts, soy, milk, eggs, wheat, and dairy items. While we take steps to minimize the risk of cross contamination, we cannot guarantee that any of our products are safe to consume for people with certain food allergies. Please check with Sarge's BBQ staff with specific allergen concerns.
Pricing and availability are subject to change without notice. Sales Tax not included.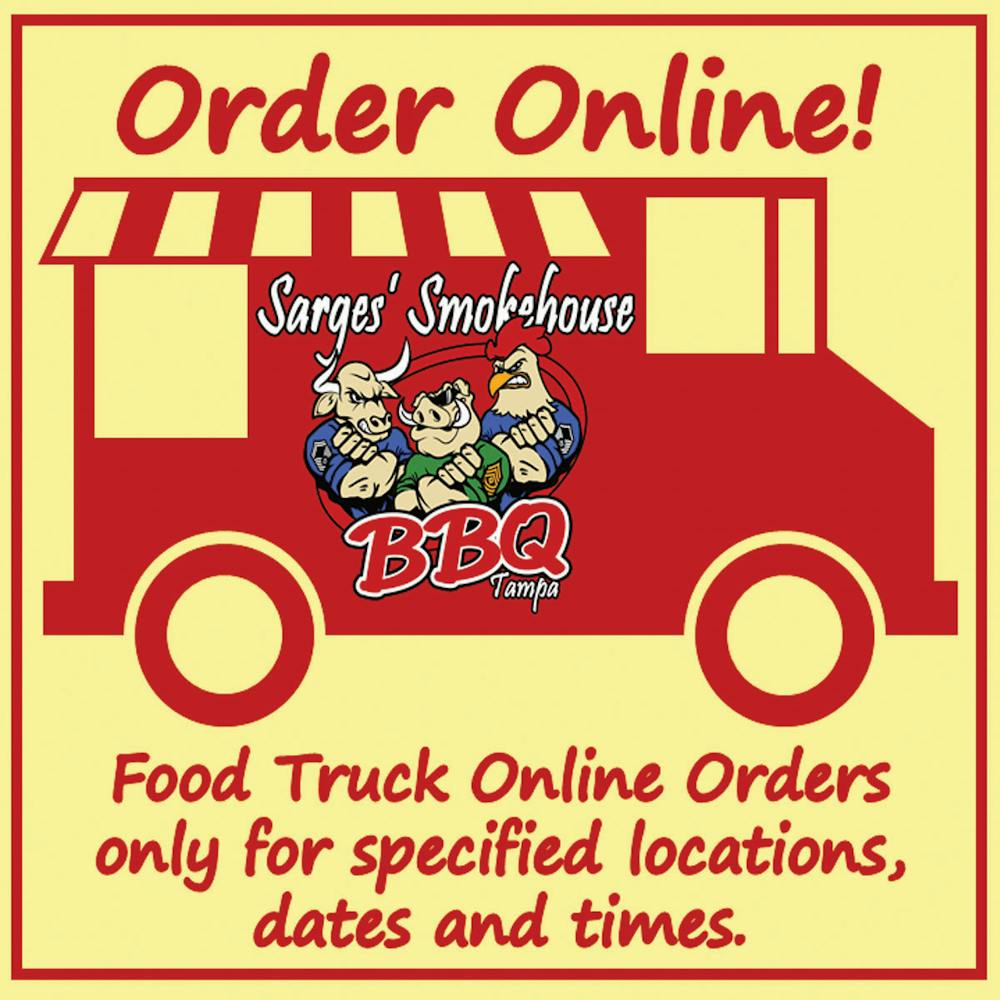 Sandwiches
Choose one of the "BIG 3" BBQ sandwich meats - 1/3 Pound of tender, hand-pulled BBQ meats, seasoned with our house rubs and smoked low and slow for up to 10 hours over a blend of Hickory and Oak. We never sauce the meat, it must stand alone! Add a Coleslaw Topper to any sandwich for 50¢. Don't want the bun? Just let us know!
Pulled Pork

$6.99

Chopped Brisket

$7.99

Pulled Chicken

$6.99

BBQ Club Sandwich

Piled High with Pulled Pork, Pulled Chicken and Chopped Brisket, topped off with Bacon and Coleslaw. This is our BIG SARGE Sandwich, checking in at at 3/4 pound!

$10.49

make it a meal

Add sides to any Sandwich order to round out your meal

add a side $2.09
COMBO PLATTERS
Combo Platters offer your choice of savory BBQ Meats from our smoker. Choose from Pulled Pork, Pulled Chicken, Chopped Brisket, Smoked Sausage, Smoked Wings (2), or Baby Back Ribs (2).
2 Meat Combo $7.99

3 Meat Combo $11.79

4 meat Combo $15.49

make it a meal

Add sides to any Combo Platter to round out your meal

add a side $2.09
Sides
Sarge's hearty Sides are scratch made every day in house, and provide an exceptional addition to any entree
Baked Beans

Potato Salad

Coleslaw

Mac & Cheese

Green Beans

cup $3.49

pint $5.99
Baby Back Ribs
Big, meaty Baby Backs, Baby! Smoked up Memphis-style with our dry rub for up to 5 hours.
3 bones

$7.49

6 Bones

$13.99

make it a meal

Add sides to any Rib order to round out your meal

add a side $2.09
BBQ Boats
A vessel of BBQ AWESOMENESS! We'll layer two sides of your choice in a banana split boat, and pile on your choice of BBQ Sandwich Meat
BBQ Pulled Pork

small $7.99

large $9.99

Pulled Chicken

small $7.99

large $9.99

Chopped Brisket

small $8.99

large $10.99
By the Pound
Pulled Pork

$14.99 per pound

Pulled Chicken

$14.99 per pound

Chopped Brisket

$16.99 per pound
Drinks
Coke, Diet Coke, Sprite, Bottled Water

$1